How could a wheel that looks so good, be so bad? There are only 6 rivits holding the metal rim to the wood structure, (spokes and felloe). As the wood had shrunk over the years, the side-to-side movement had sheared completely through two of the rivits. There are several possible semi-solutions, (or should I say temporary solutions) according to how much value you place on your life and those riding with you. I won't even mention them as anything short of what you see here is pure folly.

Calimer's Wheel Shop did the wheels for the T-100 Ford project. I chose them to respoke my wheels. The rims and hubs were sandblasted and primed with acid-etching primer before I sent them to Calimer's. This is what I got back.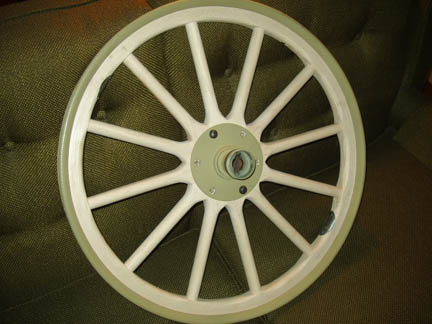 R.V. Anderson on the Model T Ford Club International Bulletin Board advised me to use a product called Cover Stain made by Zinsser to seal the wood. I carefully masked off the metal hubs and rim and brushed on a liberal coat of Cover Stain, waited a day then sanded, and sanded and then sanded some more. Now I don't mind the look of a bit of wood grain but if you want a glass-like finish, do it again.
Unmasking the rims and hubs now, I carefully rubbed down everything with a scotch-brite pad, about 220 grit I guess. (I have a good friend who works for an automotive paint distributor, who I let Deer Hunt in my back acres, so therefore the good advice on preparation.)
Now comes a complete coverage of URO Fill Primer, a 2-part product that I mixed 4:2:1 (4 parts product, 2 parts thinner, 1 part fixative) Another day of sanding! I spritzed the wheels first with a black spray paint, kind of like a pepper finish. That way I knew what parts I'd missed sanding.
After mounting my new Diamond Cross Firestone allwhite tires, (with flaps of course) and while still deflated, I masked the heck out of the valve stem and tire with good old duct-tape.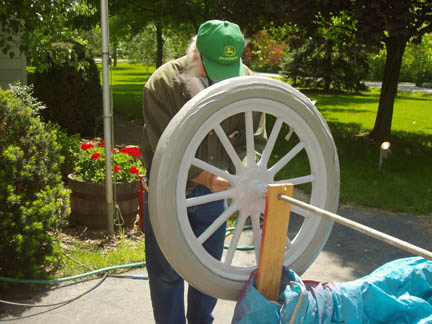 After wiping down the primed surface with thinner, to remove any fingerprints and sticky stuff from the tire preservative, then going over it all again with the scotch-brite pad for good luck, it was time to take a big breath, cross the fingers and shoot some red. (Centauri also mixed 4:2:1 and yes, this color is correct for a 1912. Actually it's 1956 chevy flame red (I think))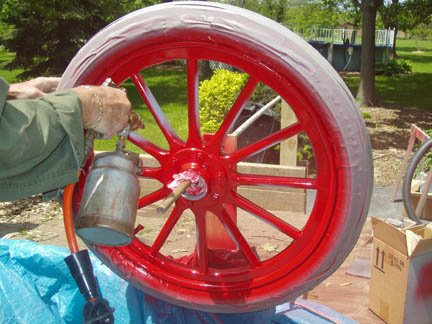 And now for the finished product!!