Grandpa Prince's Ingraham mantle clock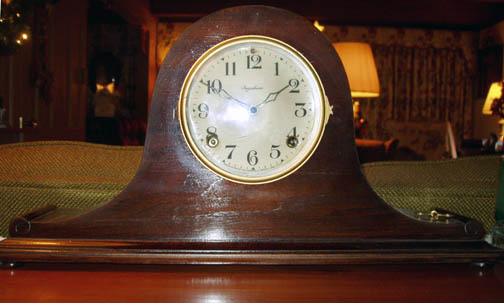 | | |
| --- | --- |
| Grandpa & Grandma Prince probably bought this clock after they moved to West Virginia from Nebraska. It would have been when they lived in this house on the farm. I don't really remember it being here though, so they may have bought it after Mom and Dad bought the neighboring "Brick House" farm. | |
I know for sure they had it when they moved to Newell, WV, on Jefferson street.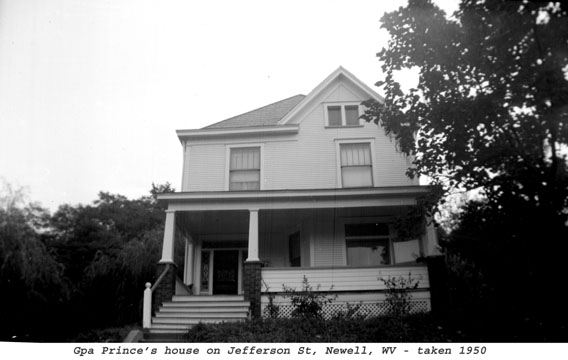 I spent a lot of time with them there as I went to school from 3rd grade to 6th grade, right down the street, only going home to the farm with Mom and Dad on the weekends. They felt the bus-ride was too long and hard, especially in the cold weather. So I spent lots of time with Grandma and Grandpa in the Jefferson Street house.

Perhaps I can remember the sound of this clock so well because Grandpa worked as a night watchman at the Homer Laughlin Pottery there in Newell, and he slept mostly in the daytime, so it was necessary for me to be quiet while he rested. It is here that I enjoyed cutting out car pictures from old magazines and I still have a scrapbook of those pictures. It was the winter of most of one school year, I think it was 4th grade, that Mom and Dad left West Virginia and went to Florida. I think Dad even bought a little place down there, near Orlando where he went to try to find work. But that's another story.