1940 Philco Radio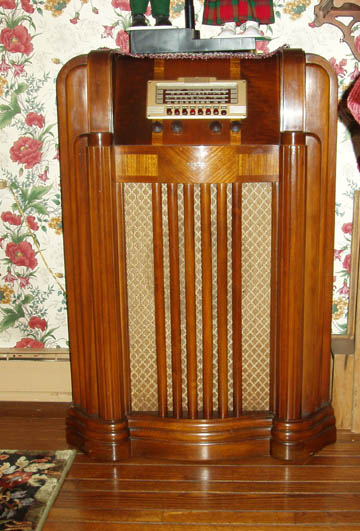 Sanders and Lucetta (Ray) Steele lived in Huntington, West Virginia. I always called them "Aunt" and "Uncle" but technically Lucetta was my Mother's 1st cousin, once removed. Anyway, whenever we visited Huntington, where all my Mother's people were, we always stayed at Lucetta and Sanders' home. We would sleep there, eat there and do our visiting to the other relatives in Wayne County. I don't know why that was, looking back on it, but I don't remember ever eating or sleeping at anyone else's home there but rarely. As a child it was generally quite boring. There were no other kids to play with the exception of my Uncle Paul and Naomi's daughter Ruth Ann (who was the same age as me), but she was a GIRL. There was Lucetta's sister Gladys that we'd visit occasionally and they had an older boy and a GIRL the same age as I, (who also was the first girl I ever kissed, or should I say kissed me) and they also had the American Bricks that I first played with, later to get my own in 1950.

The hours spent at Lucetta's alone were especially monotonous until I discovered the big Philco radio that they let me play with. I had to sit on the floor with my ear to the speaker so as not to disturb the grown-ups in their conversations. Keep in mind, this was back in the days when children were to be seen and not heard. I knew better than to interrupt or be a nuisance, or Dad would raise that one eyebrow, which was effective whether in a small group or across a crowded room! Amazing how one gesture can convey a thousand words. And let me be quick to say that Dad was never overly strict or abusive, it was just that old adage "the best discipline is a lack of any visible discipline"so I can't begin to tell what power was behind that gesture, it was just there.

Anyway, less I digress too far, it must have been 1950, the year we got our new Pontiac that I remember spending the most time in front of the radio. I was 11 and radio was to me then what DVD's and MP3's are to kids today. The shortwave bands and the police bands were such a fascination, along with the few AM bands we could get back there in West Virginia. Stations were mostly WSM Nashville and KDKA Pittsburgh.

In 1961 Barb and I were married. We went through Huntington on our Honeymoon and spent the night at Lucetta and Sanders' home (where else in Huntington) on our way to Gatlinburg, Tennessee. It was in the summer of 1966 that we brought the radio home. We had rented a u-haul trailer to bring home the pump organ and Lucetta suggested that if we had room, we could have the radio. At the time, it still played but the wires were all brittle so it just sat until last year (2003) when we decided to have it repaired. It has taken my friend Lance Kula the best part of a year to get it in tip-top shape. He has remarked often that he has never seen a radio of this vintage in such pristine condition. The pushbuttons and station call letters have been replaced, as were all critical wires and internal parts changed out with modern wherever possible to not change the outward appearance. It may well be one of the best specimens of a 1940 Philco anywhere.