Grandpa Prince's rocker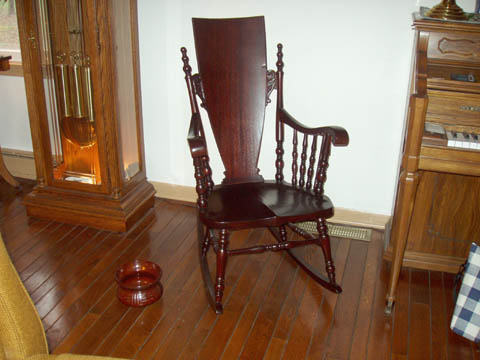 When Ross & Mary Prince moved, with my mother, from Nebraska to West Virginia in 1926, they bought a farm from a Mr. Paterson. This is the farmhouse, Grandpa, and my Mother.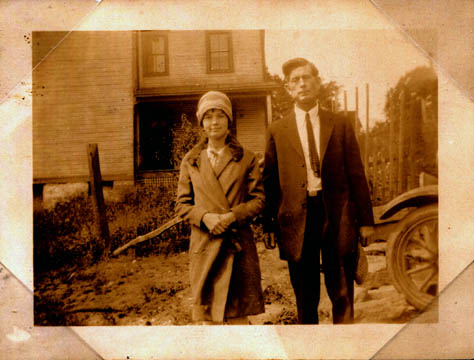 Mr. Paterson left a few pieces of furniture in the place, but all I remember was the set of sleigh bells and the rocking chair. (More on the sleigh bells later.) Grandpa took to the rocker! I never knew him to sit in anything else unless he was visiting someplace. He had all the finish rubbed off the arms as he'd sit and rock and chew and spit into the spittoon. It followed him to Jefferson Street in Newell, and later to Clearwater, Florida, on Lime Street I think it was. After he had his stroke, while I was still in High School, (1956 or 1957) he still sat in the chair. He had lost his ability to speak, which was such a blow to him, as he loved to talk. Back in West Virginia, on a sunday afternoon, my Dad would doze off, but Grandpa would just keep on talking. Grandma always kept two thin cushions, one for the seat and one for the back, on the chair. She would always sew them up special to fit, with cords attached so they could be tied securely.
I don't think there's ever been a more comfortable rocking chair. It was in our basement in Park Forest, IL for several years until the early spring of 2003 we took it to Chicago to have it restored, as the seat had split in two places, there was always one spoke missing under the arm and it was just totally coming apart all over. I miss the bare arms where Grandpa used to rub and every time I sit in it, I just rub away like he did. Someday the wood grain will begin to peek through again.